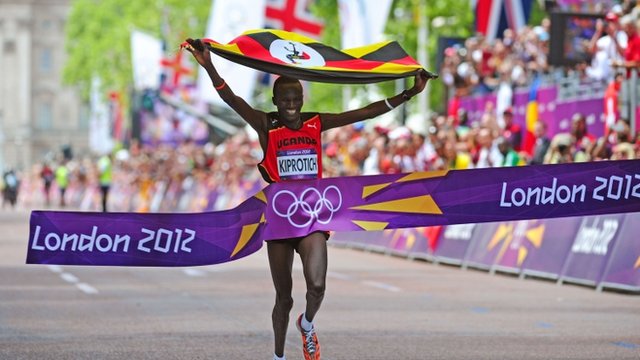 LONDON -- For Stephen Kiprotich, being a relative unknown had an advantage: When the Ugandan runner joined the leaders late in the Olympic marathon, no one really paid that much attention.
That was part of his plan -- blend in and then take the competition by surprise.
He did just that, using a blistering surge with three miles left to pull away from the Kenyan duo of Abel Kirui and Wilson Kiprotich Kipsang to win the marathon Sunday.
By winning gold, he made sure his country didn't go home empty-handed from London. And also by winning gold, he made sure he won't be overlooked again.
He's an unknown no longer.
"They didn't expect me to win. I was keeping behind them, keeping the fire burning," he said. "When they (went), they thought they'd left me, but I was there. When my time came, I said, 'Now, I go."
And off he went, leaving many to wonder: Where did this runner come from?
He's had a few impressive performances in marathons, but nothing that would indicate this kind of feat. He finished in 2 hours, 8 minutes, 1 second -- not his best but pretty close. Kirui ended up with the silver while Kipsang held on for bronze just ahead of American Meb Keflezighi.
"People didn't expect Uganda. They thought Kenya, Ethiopia," Kiprotich said. "I've been keeping quiet. Not now."
He has reason to stick out his chest. So does his country.
Moments like this haven't happened all that often for Uganda. This was the country's seventh Olympic medal in any sport and second gold. John Akii-Bua, a 400-meter hurdler, won the other gold 40 years ago in Munich.
"I made history with my people," Kiprotich said.
The Kenyans, who were looking at a possible podium sweep, just couldn't keep up. Kirui & Co. were competing in memory of the late Sammy Wanjiru, who won the country's first Olympic marathon crown four years ago in Beijing. Wanjiru died last year after a fall from a second-story balcony during a domestic dispute.
"In my mind, I was thinking Kiprotich is fading away. In my mind, I was thinking gold is for me," Kirui said. "To my friend Kiprotich, congratulations. He was the best today, that is why he won. For us, we don't really feel bad that he won."
For the Ethiopians, this was a race the runners would rather forget. All three failed to finish the twisting and turning course.
Kipsang was seemingly in control early in the day. He was out front and running all alone, before fading back to the pack. Kirui caught up with him while Kiprotich followed just behind.
At the 23-mile mark, Kiprotich turned the corner and was gone. He had such a commanding lead near the finish that he grabbed a flag from the stands and wore it on his way to the finish.
After finishing, he dropped to his knees, bowed and then raised his hands high over his head.
"It means a lot to me. Being unknown, now I'm know," he said. "So I'm happy. I'm happy now I'm a known athlete."
Kiprotich sure had plenty of crowd support. Spectators lined the course at every turn, waving signs and ringing cowbells.
The runners took in the sights, breezing past Big Ben, St. Paul's Cathedral, Trafalgar Square, London Bridge and the Tower of London before finishing near Buckingham Palace.
The weather was ideal -- at least for the spectators.
It was bright and sunny but grew hot, especially late in the race -- quite a contrast to the women's race last Sunday that began in a steady downpour.
While other runners wore the colors of their countries, Guor Marial donned a predominantly gray and black uniform with "I.O.A." printed on it. He wound up 47th, 11:31 behind the winning time.
Marial competed as an independent runner under the banner of the International Olympic Committee after fleeing a refugee camp in what is now South Sudan during a civil war more than a decade ago.
The 28-year-old landed in the United States, seeking asylum. The IOC cleared him last month to compete in the Olympics as an independent athlete after he didn't qualify for Sudan, South Sudan or the United States under its rules.
Marial had run only two marathons in his life, but finished both in Olympic times. His second was just two months ago in San Diego.
"I was not able to get them a medal today, but the finish was the most important," Marial said. "I felt like the world was watching."
Within seconds of each other, U.S. marathoners Ryan Hall and Abdi Abdirahman were out of the Olympic race.
First, Hall, a medal favorite, dropped out around the 11-mile mark with a tight right hamstring. Then, Abdirahman called it a day because of an aching right knee.
"I felt like I was favoring my stride and didn't want to get injured," said Hall, who lives in Flagstaff, Ariz.
Keflezighi, of Mammoth Lakes, Calif., used a strong finish to make up ground and finish fourth. He was motivated by a grudge.
Before the race, a few of the runners were introduced, but not Keflezighi. He felt insulted since he won a silver medal in Athens eight years ago.
"To not be introduced like that, it hurts," he said.
Still, he was pleased with his finish.
"Coming here I told my wife, 'I have a feeling I'm going to finish fourth," he said. "Did I want to finish fourth? No. It's not where you want to be sometimes, but fourth place at my last Olympics? I'll take it anytime."