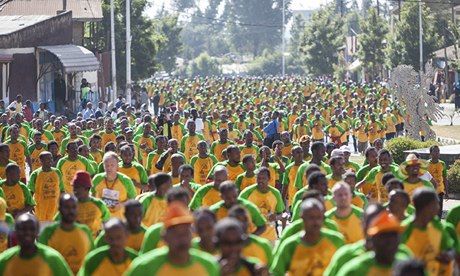 But caffeine-fuelled beverages aside, why are Ethiopian distance runners so good? "It's because of opportunities here," says Gebrselassie, who spends the days before the race patiently smiling, chatting and posing for photographs. "Plus the lifestyle: the kids walk to school – no, they run! – every day. I ran six miles every day to school and back so my training started when I was three or four." Unsurprisingly, the Great Ethiopian Run even has a race for the under fives.
Though there are a few international runners – a team from Norway and a speedy gang from Birmingham – the race at elite level is tough for most foreigners because of that altitude. While your legs feel good to go, your lungs wheeze and moan in protest. It's like someone has strapped an iron band around your chest and compressed it.
My first experience of this comes on a track built by Bekele high in the mountains. Bekele himself has come to train, and we jog very slowly with him. At least, my GPS watch says it's slow – my lungs appear to think I've just finished a sub-four-minute mile. This is why athletes train at altitude – and why those born at it have an advantage – the body adapts to the relative lack of oxygen. But not, of course, on day one. And not when you are trying not to wheeze too loudly behind a multiple Olympic gold medallist.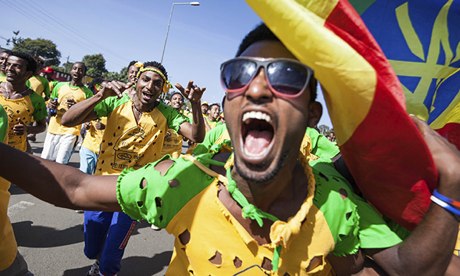 After warming up, we follow Bekele into the woods where he and many other elite athletes train. He slips away in a matter of seconds, leaving us to puff and tootle around a few miles of hyena territory. "That's OK, they only come out at night," says a cheery runner. "Just don't be last!"
But by race day, either I've adapted slightly or the adrenaline has kicked in. Once I summon the courage to get out of the sidelines and into the sea of runners, I'm away. The first few kilometres are very slow, because of the sheer press of people, many of whom are too interested in talking, showing off and having fun to care what time they finish in, but the atmosphere is incredible. There are spontaneous outbreaks of loud joyous songs and chanting. Others dance and shout. I can't stop smiling.
The noise quietens – though only very slightly – as those hills kick in. I'm surrounded by friendly, chatty people, though the man who wants to talk to me about my impressions of Ethiopia probably shouldn't have chosen an uphill stretch to do it. Where some races have hi-tech drizzle showers to cool you off, this one has a full-on garden hose. Most people stop to dance in its makeshift shower.
My finish time is six minutes slower than my personal best, but that's irrelevant: this is the craziest race I've ever done and one of the best experiences of my life. As Haile eloquently puts it: "The best way to get rid of all stress and everything is to sweat a bit. It's a kind of treatment." And one that I would happily sign up to again.