Last year's Bank of America Chicago Marathon runner-up in the women's race finished first Sunday with a personal record time of 2:19:59, according to unofficial times.
Jeptoo was neck-and-neck last year with Atseda Baysa of Ethiopia for a thrilling photo finish. Baysa broke the tape in the end, just milliseconds ahead.
This year Jeptoo got hers, breaking away from her closest competition well before the final mile.
"It was the greatest competition in the history of the event," race director Carey Pinkowski said. "To have them back for a rematch, I can't wait."
Despite the intense rivalry, the two women are friends, and were joking with each other Friday while meeting with the press.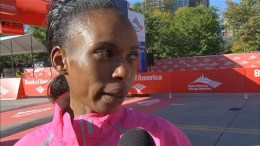 "Everything that happens on Sunday -- we tried. With my friend, to push and to run good," Atseda said.
"Whether I win or she wins, I will be happy," Jeptoo added.
Atseda has had a great year so far, winning the Boston Marathon. But of course, her win was overshadowed the bombings, and she admits it is on her mind as she prepares for Chicago.
"I hope in Chicago there is not any problem," Atseda said. "I'm not happy because a lot of people had problems, injuries, some children died, some people died ... I want to say I'm very sorry that some people lost their families."


Source: http://www.nbcchicago.com/news/local/Rita-Jeptoo-Gets-Redemption-in-Chicago-Marathon-Win-227580161.html#ixzz2hgMPtCgI