Two young Ethiopians from a small but remarkable town run for their lives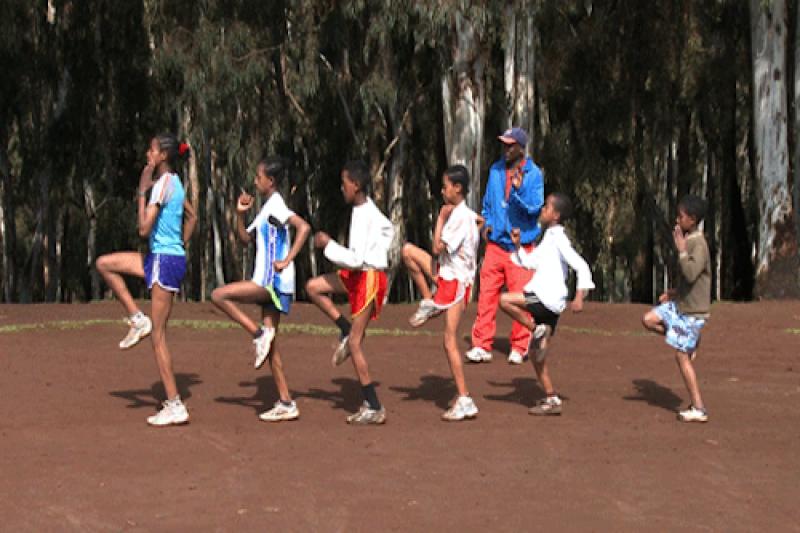 Eshetu's future champions: 'In another town they would ask, 'Have you all gone mad?''
Footage of wiry East African men and women breaking the tape in marathons and distance track-events is now more or less synonymous with the highest achievements in top-level sport, and it won't come as a surprise to those who've lived through more than a couple of cycles of the Olympic Games to be reminded that the medal-winners in the long-distance running events are no longer, generally speaking, from "round here". The headline of Jerry Rothwell's grass-roots feature documentary, though, is that, actually – at least for the last two decades or so – a disproportionate number of them don't simply come from "over there", either. Where they come from, in fact, is a single small town in the Ethiopia's central highlands: Bekoji, pop. 16,000.
Even in the context of the Ethiopian highlands, the people of Bekoji – a town joined to Addis Ababa only by a dirt road – are like some kind of fitness cult. Or the inhabitants of Asterix's village. It's honestly as though there's something in the water. Presumably not (though I reckon the idea merits further study) – but what there is, instead, is coach Sentayehu Eshetu, a local hero figure who in this country would long since have been given his OBE and who is responsible for having weaned the talents of such long-distance legends as Tirunesh Dibaba, Kenenisa Bekele and Derartu Tulu. Under Eshetu's tutelage, in fact, at the Beijing Olympics alone, the town of Bekoji took gold in all four major distance events – more medals than most entire countries.
The young Alemi just chose to run everywhere. I'm sure I remember a similar story about Sebastian Coe
Town of Runners follows the trajectories of two girls, Hawii Megersa and Alemi Tsegaye, both aged around 15-16 (they don't actually know), from what might be called the "start" of their running careers if the population as a whole didn't seem to be out running from the age of about 10.
And while Hawii and Alemi attend running school in the woods, doing high knees at dawn, in the mist (with a soundtrack of chirpy home-grown jazz to show just how cheerful the Ethiopian people are, even when they're under the lash), the context of Ethiopian small-town daily life is provided by the wistful voiceover of Biruk Fikadu, local kiosk-owner and (of course) aspiring runner who, we are led to assume from his downbeat demeanour, isn't about to cruise to victory in the Olympic 5000m final.
In fact, Biruk has already been stood done, even at a local level, on account of his youth and limited strength. So he tells of the Chinese trucks that are building the new road to the capital, of how the rains have come too late this year for the harvest to be saved, of how he hopes to pass his 10
th
grade matriculation at school and go on to qualify as a doctor.
Bekoji is the standard grim environment for an African documentary. Literally dirt poor, a town of tough subsistence farming. The local beauty salon is two combs and a seat in someone's front garden. In the market, they weigh out garlic bulbs and Chinese Wellingtons (Eshetu refers to "the Chinese" as "a road construction company": amusing, and at a local level in much of Africa, basically true). At the Oromia regional championships, the running track is laid out by hand, with white chalk and plumb line, on a surface of raked earth. And after the rainy season in Bekoji, the runners' first job is to hoe the training ground back into existence. Even at the national championship level, most of the competitors are running in bare feet