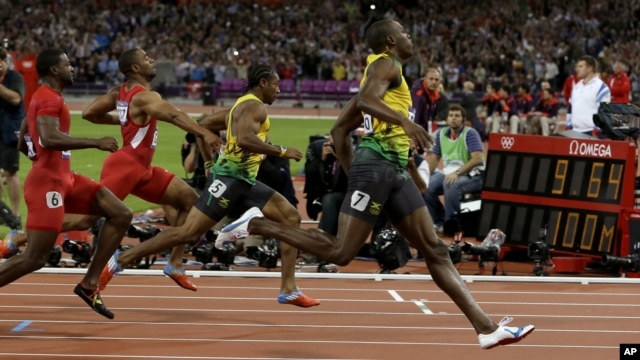 Jamaica's Usain Bolt, right, wins the men's 100-meter final during the athletics in the Olympic Stadium at the 2012 Summer Olympics, London, Sunday, Aug. 5, 2012.
C
hina dominated day nine of the London games, capturing five golds and retaking the top spot in the medal standings, while Jamaican sprinter Usain Bolt defended his 100-meter title with the second fastest time in history.
Team China continued its dominance at the diving pool, with Wu Minxia winning the women's three-meter springboard competition and earning the sixth medal of her Olympic career. Chinese weightlifter Zhou Lulu claimed the gold in the women's super heavyweight category and set a world record in the process.
China also completed a sweep of the badminton titles, with first-place finishes in the men's singles and doubles categories. Chinese gymnast Zou Kai added a fifth gold for his nation in the men's floor exercise. China finished the day with 30 golds, two more than the United States. Team USA picked up two golds, in the women's tennis doubles and the women's 400-meter sprint.
Sunday's biggest victory in track and field belonged to Jamaica's Bolt, who won the men's 100-meter sprint in 9.63 seconds, setting a new Olympic record and matching his gold-medal finish in Beijing 2008. Fellow Jamaican Yohan Blake earned the silver and American Justin Gatlin took the bronze.
Great Britain extended its gold medal winning streak, picking up two golds after the host nation basked in the glory of taking six golds on Saturday. British sailor Robert Ainslie won his fourth sailing gold medal in the Finn category, becoming the most successful sailor in Olympic history.
In the men's tennis final at Wimbledon, Britain's Andy Murray beat Switzerland's Roger Federer, avenging his loss to Federer on the same court in the grand slam final one month ago.
Hungary also had a successful day, winning golds in the men's hammer throw and men's pommel horse events.
​​Ethiopia's Tiki Gelana won the women's marathon on the rainy streets of London, finishing the race in 2 hours and 23 seconds, a new Olympic record. The rain did little to dampen the enthusiasm of the crowds.
"I just cannot believe how many people [are here], especially with the weather. I mean, it has been absolutely pouring and the weather has been awful, and there has been so many people out, so yeah it's been really good," said one woman who watched the race.
Kazakhstan and Kenya also won gold medals in track and field. And Iran and Russia claimed golds in Greco-Roman wrestling. Sunday's other gold medal winners included Belarus in tennis, Denmark in cycling, Italy in fencing, South Korea in shooting, Romania in gymnastics, and Sweden in sailing.
Photo Gallery: Day 9 of Competition